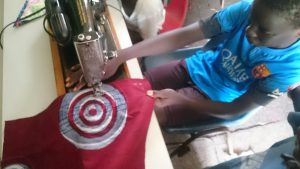 Our beautiful bunting and cushion covers are brought to you from Diapalante's Community Education Centre in Kaolack, Senegal. They were designed and made as part of an Introduction to Tailoring course. This is one of a series of occasional courses offered to develop skills and understanding useful in business. As well as sewing skills the course introduced other important elements such as design, cost control and quality control.

Cushion Cover £10
Bunting £10
This colourful bunting is three metres long plus extra tape on each end for tying.
Sold Out

Our colourful African collection (below) benefits the Senegalese town of Kaolack twice. Firstly, the artisans working in the labyrinth of tailors' workshops in Kaolack's market area benefit from the work created when the items are commissioned. Then, when they are sold to you, the profit goes back to Kaolack to fund the Diapalante Community Education Centre, a busy drop-in education centre which is open to everyone.


Reversible Apron (Child) £8
Reversible Apron (Adult) £12
Sold Out
Totebag £8
A5 Fabric Notebook £8.50
These fabric covered A5 notebooks make a lovely gift. When the notebook is full the cover can be reused on other A5 notebooks.
Sold Out
The shirts below are also made in Kaolack. The range offers both long and short sleeved
options. NB PHOTOS MAY NOT SHOW CORRECT SLEEVE LENGTHS, PLEASE FOLLOW DESCRIPTION.
The shirts are sized for a slim fit.
For a classic fit choose a size bigger.
Style 1 £25
Style 1 £25
Style 2 £25
Style 2 £25
Style 3 £25
Style 3 £25
Style 4 £25
Style 4 £25
Style 5 £25
Style 5 £25
Style 6 £25
Style 6 £25
Style 8 £25
Style 8 £25
Style 9 £25
Style 9 £25