Master P's Cookery Class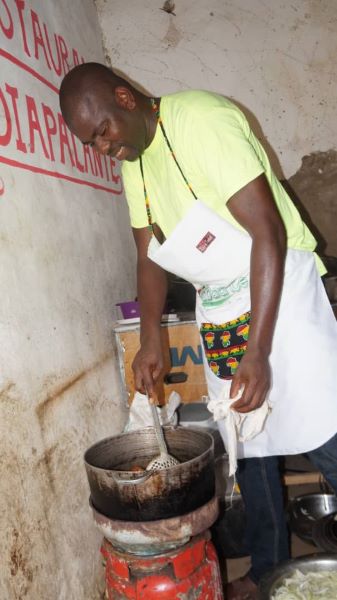 Sunday, 11 October 2020, 7.30pm
To support Master P click Virgin Money Giving Donation Page or use the Paypal donate button at the top of the page.
Thank you for your interest in my fundraising. I hope you will support me and enjoy my first step into online fundraising.
I am Master P and I run the Diapalante Community Education Centre in Kaolack, Senegal, West Africa. Diapalante help us fight poverty by providing us with both financial and practical support. Our educational activities help both children and adults improve their future or present life and employment opportunities. For example, at school, children are taught in French, not their home tongue. The Centre's after-school activities help hundreds of primary school children to develop their French language skills, improving their school performance as their understanding of lessons improves. For those children who don't attend school, we are starting literacy classes in Wolof, the dominant local language. Activities popular with adults and teenagers include computer skills, English lessons and a Young Leaders programme.
As a result of coronavirus Diapalante's fundraising has moved online, which has given me the opportunity to participate from Senegal. I have decided to attempt a cookery challenge.
In Senegal men rarely cook, the kitchen is the domain of the ladies of the house. To help with fundraising, I offered to step into the kitchen and cook dinner, with a little supervision. Please support my adventure by donating to Diapalante and joining me in a Zoom meeting on 11th October. You will be able to see how I get on and learn how to cook chicken yassa, a delicious Senegalese dish.
Join Diapalante on Zoom for Master P's Cookery Class
On: Oct 11, 2020 at 07:30 PM
Click here to join the zoom meeting
Meeting ID: 882 3581 9610 Passcode: 359003
Wacky Sports Day
Sunday, 24 May 2020
This provided some garden fun for our brave volunteers and raised over £800.
Pippa's Hair Shave,
The Great Queens' Shave Off
Pippa's lost her long hair in a new shaved look as part of The Great Queens' Shave Off.
Her brave step raised over £900 for Diapalante. Thank you so much Pippa.
The money will soon be used in Senegal on a book creation project as outlined below.
Pippa spent her gap year working at the Diapalante Community Education Centre in Senegal, where she was a much appreciated volunteer. Now a medical student at Queens College, Cambridge, Pippa is raising funds for, and volunteering to help with, our book creation project. The project will produce much needed Senegalese story and reading books for children which can be used and distributed freely (under a creative commons license). Unemployment and poverty have increased around the world with this pandemic, in Senegal the ever present poverty is being exacerbated. Therefore we will make small payments to the Senegalese teenager and adult volunteers participating in this project, so they can contribute to their family income.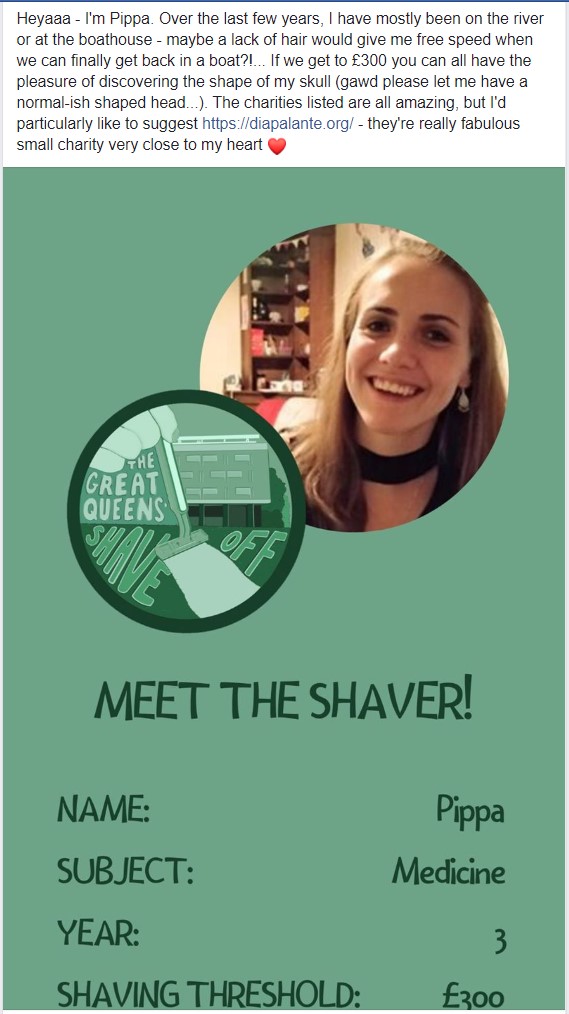 Bad Hair Day.
26 April 2020
Thank you to all our sponsors, now passed £1000.
With all the usual fundraising activities for Diapalante abandoned for the moment we have had to take to other paths. To brighten our day and hopefully yours, we have decided to go for a little more colour in our hair. To be more specific, Liz will dye her hair pink (or red) if we get any sponsorship. Ian is a bit more reserved and his hair and beard will go green only if the donations pass £500.
This year the Diapalante Community Education Centre should be celebrating 10 years of "Education for All", helping everyone from young children to adults to improve their education, their life skills and ultimately their employment opportunities.
But now coronavirus has temporarily closed its doors. Master P, who runs the Centre, is still working away, taking advantage of the closure to plan the Centre's future activities. However, without our usual fundraising, Diapalante is losing about £500 a month.
Please help us ensure the Centre will be there to help future generations of children and adults determined to contribute to Senegal's fight against poverty by equipping themselves with the skills to build a better future.
Please be generous, we would enjoy turning Ian green! Thanks a million
Caroline is running the London Marathon for Diapalante £3,000 + raised.
28 June 2019
Please support Caroline in this challenge.
1. Click to sponsor Carolne
2. Use the London Marathon android app to watch her progress live
3. Come along and cheer her – for details contact us